---
About the Statue:
This is a customized large bronze eagle statue. Its size is 1.5m high. We could see the color of this sculpture and the details are absolutely stunning. The huge wings are outstretched, and we could see each distinct feather. The head of the eagle is golden, and the beak is sharp, which is very in line with the characteristics of the eagle itself. Such a very realistic bronze eagle sculpture is an excellent complement to the scenery, whether it is placed indoors or outdoors, and has become a highlight in people's eyes.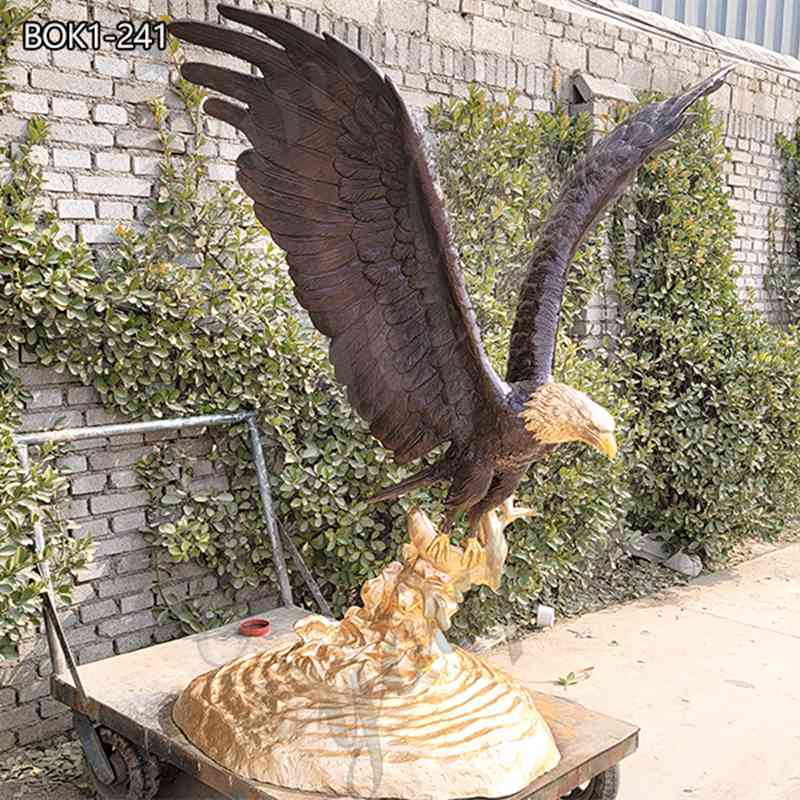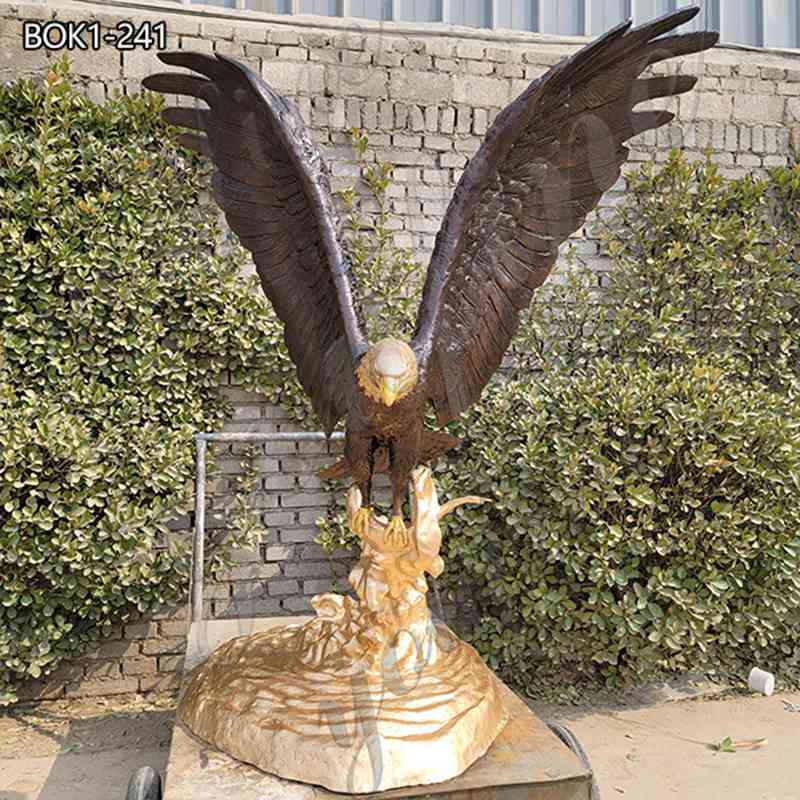 Production Process:
The process of making this large bronze eagle statue by YouFine is roughly divided into the following steps:
First of all, make a clay model. The clay model is the most important foundation for a bronze sculpture. Each bronze sculpture needs a 1:1 model to complete. For this aspect, you could rest assured that we have professional model masters to provide the best models. Secondly, we need to shape the wax shell and then repair the wax shape according to the original drawing to prevent the mold from losing some model details during the processing. Then it was burnt wax and poured into bronze. YouFine's sculpture adopts the lost wax method, a traditional lost wax process. The wax mold is placed in a heat-resistant mold, the paraffin in the shell is burned at a high temperature, and then the bronze water is poured into the quartz sand shell to cool and form. Finally, welding and polishing.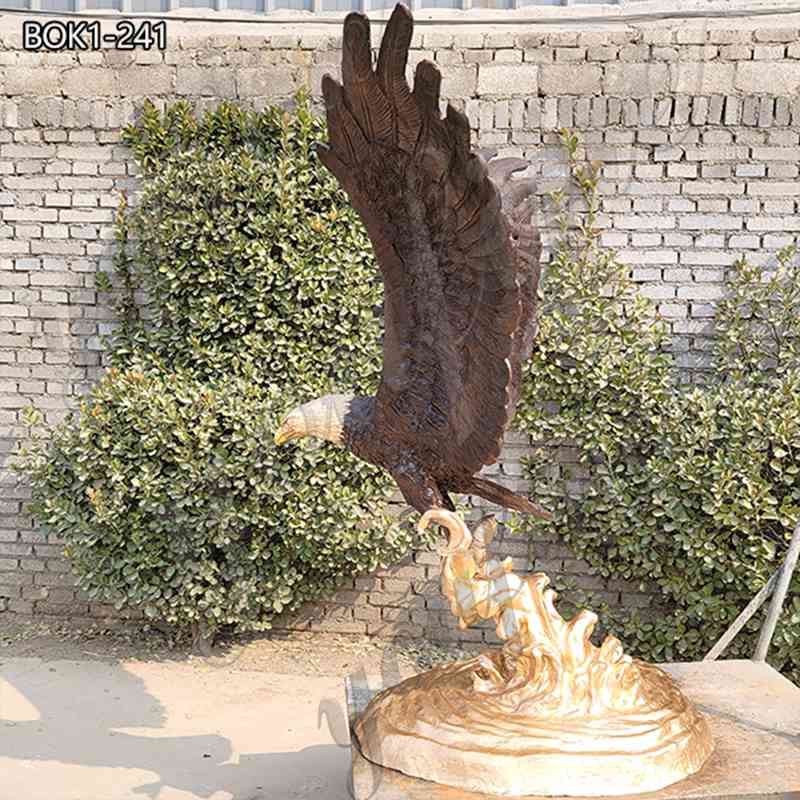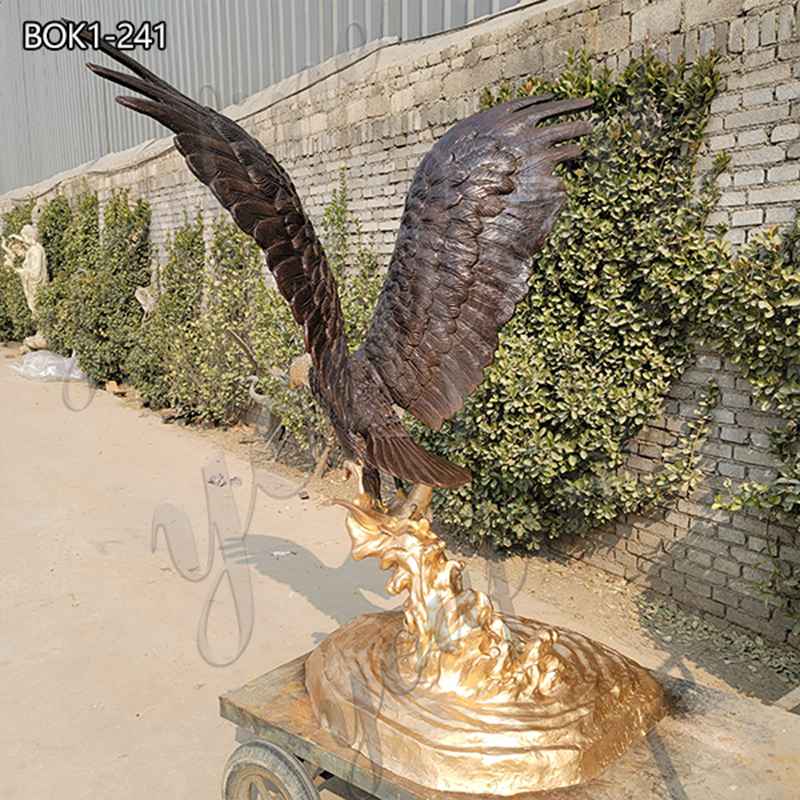 Clay Model Display:
We have a preferential policy on clay models. In our clay model studio, ready-made models are available for our clients to use free of charge. Like this bronze eagle sculpture, we already have the finished clay model. If you are satisfied with the design and size of this eagle statue. If you order this statue from YouFine, for the same quality, you would save a thousand dollars compared to other factories. Because we would subtract the model fee for you. This is our greatest support to our customers.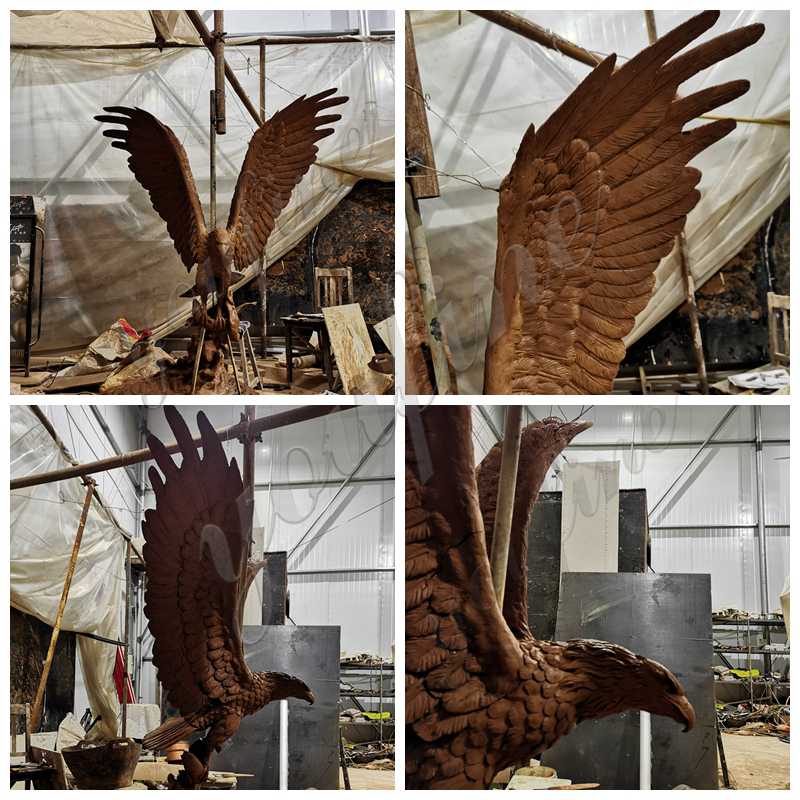 Finished Photo:
After the production is complete, we also need to color. The coloring method we generally choose is chemical coloring. So not only would the color of your large bronze eagle statue not fade, but it would also become more attractive and natural over time.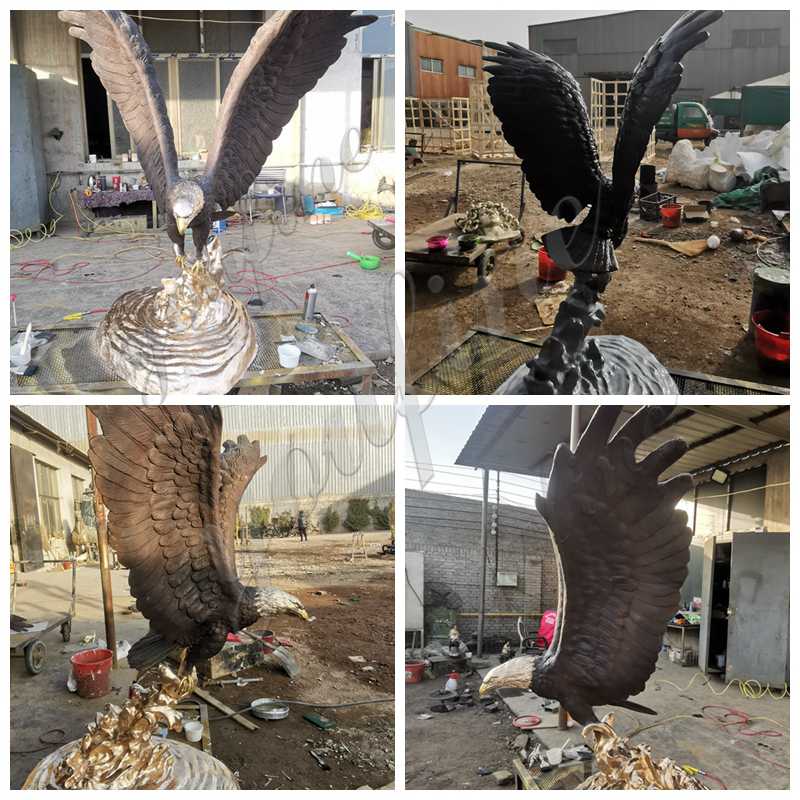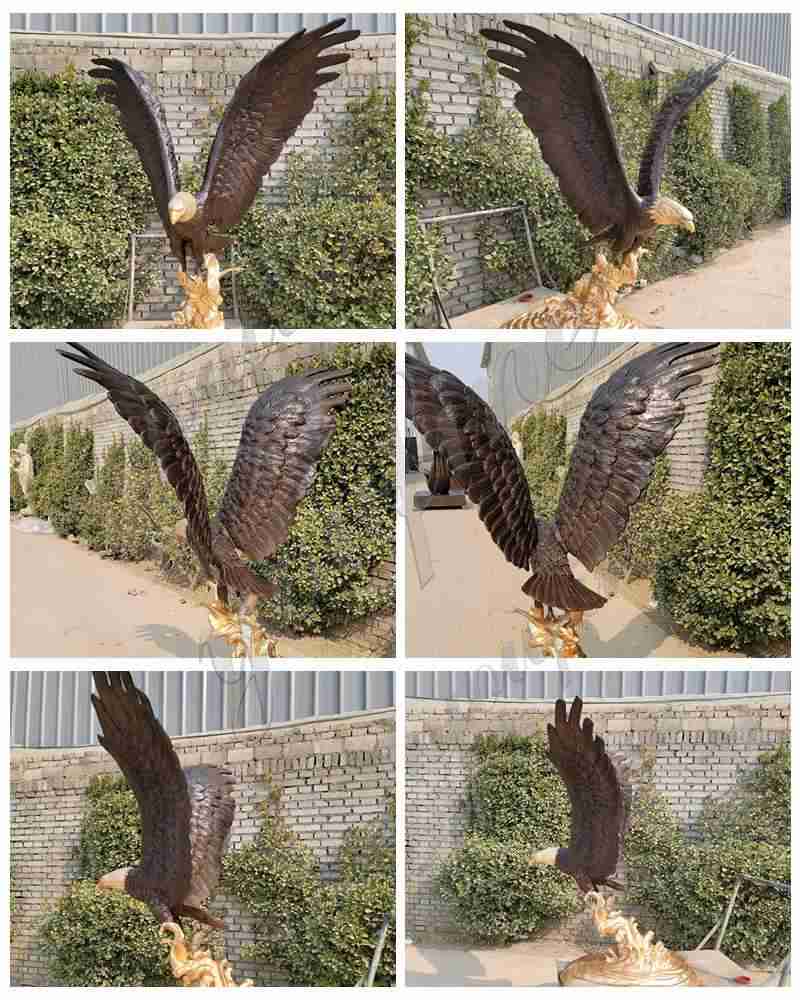 More Designs:
As a professional metal sculpture production factory, YouFine has more than 30 years of experience in making bronze sculptures. Our artists are at the top of the caliber with decades of proficiency in bronze casting and could guarantee that the bronze sculpture you want has the finest detail. Besides, we have many more bronze sculptures for you to choose from and customize. Whether you like large bronze eagle statues or want to customize other styles, YouFine could give you the best choice and service.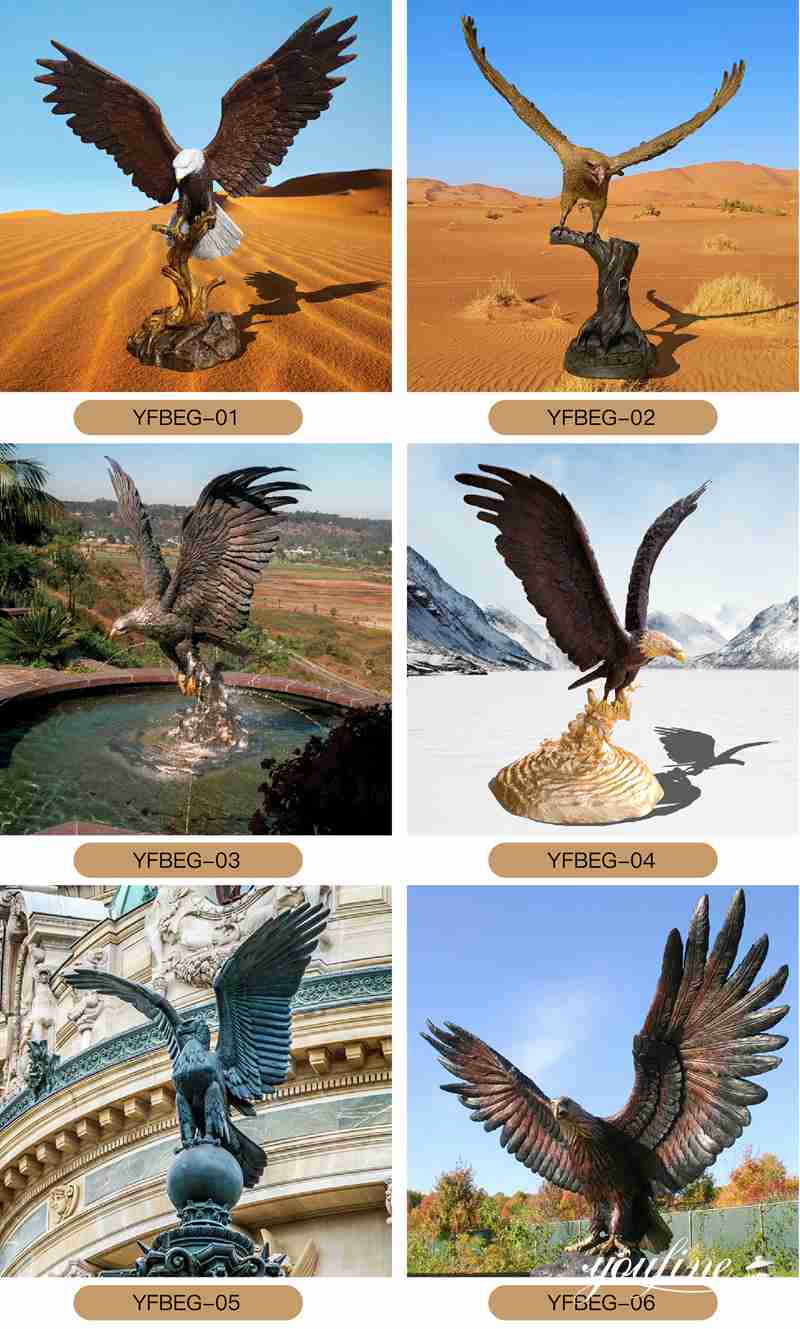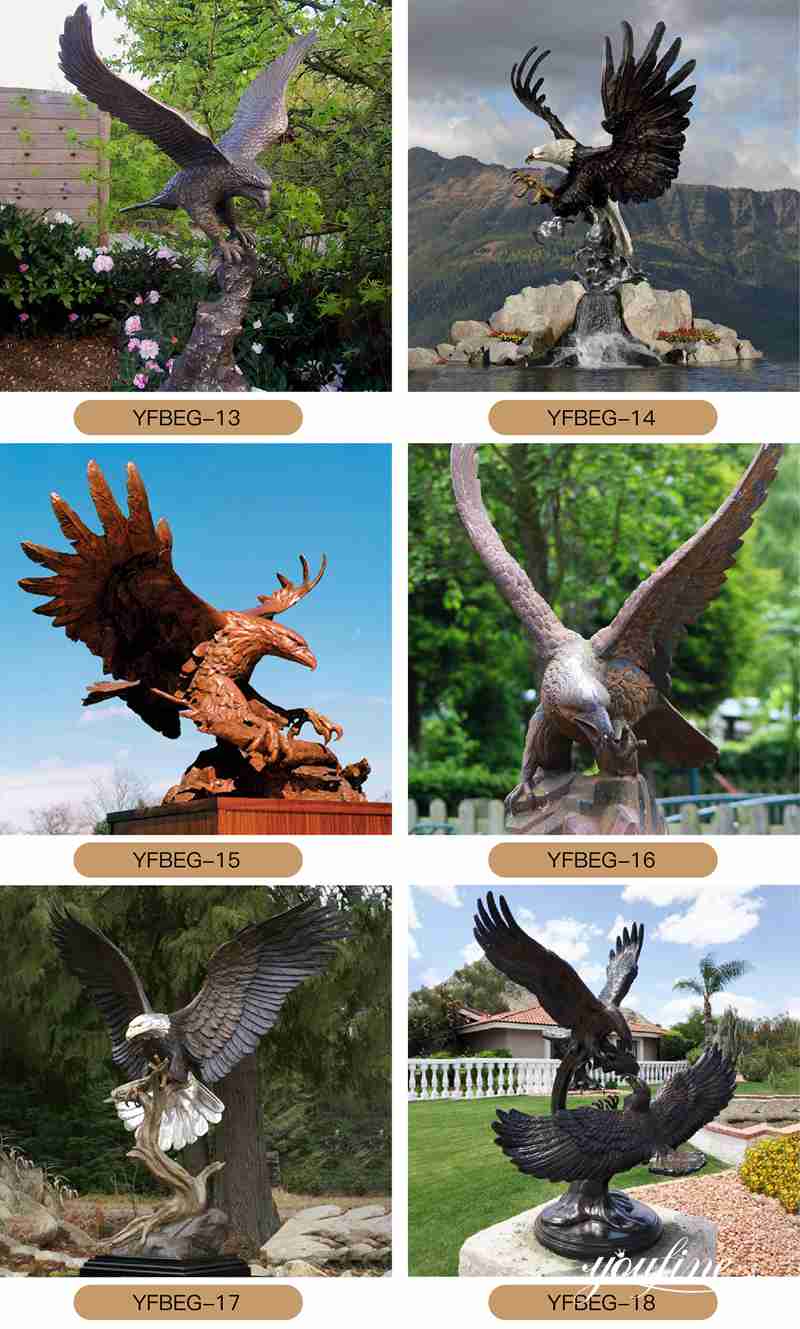 YouFine is factory direct and could guarantee good prices. So the custom bronze sculpture you buy in our factory must be cost-effective. If you want to buy bronze animal statues of superior quality, YouFine is your best choice.
---
About us
YouFine foundry includes custom bronze children's portraits, custom made full size figure portraits, custom bronze US Military statues and bronze Veterans monuments, custom bronze dog statues and life-size dog portraits, heroic size custom bronze monuments and custom life-size bronze portrait memorial statues. Some of these statues may be limited edition releases but most are commissioned custom made bronze sculptures created by YouFine for governments, business, military, families, and non profits.What ever the subject matter, YouFine can create a custom bronze statue or monument that will touch the hearts of those who see it. She has a knack for making life-size bronze portrait statues that actually look like the individual.
Looking for bronze sculpture ?
Tell us what you need by filling in the form