---
About the Statue:
This is a bronze Rooster sculpture cast in high-quality bronze. Every detail of it is very vivid and perfectly shows the high stance of the rooster. Especially our rooster statue croaking with its mouth open. His wings were tightly clamped together, full of strength. And we can also feel that the pectoral muscles of the cock are very developed. The claws of this bronze rooster sculpture are firmly fixed on the rock. No doubt this bronze rooster sculpture will bring more fun to your garden.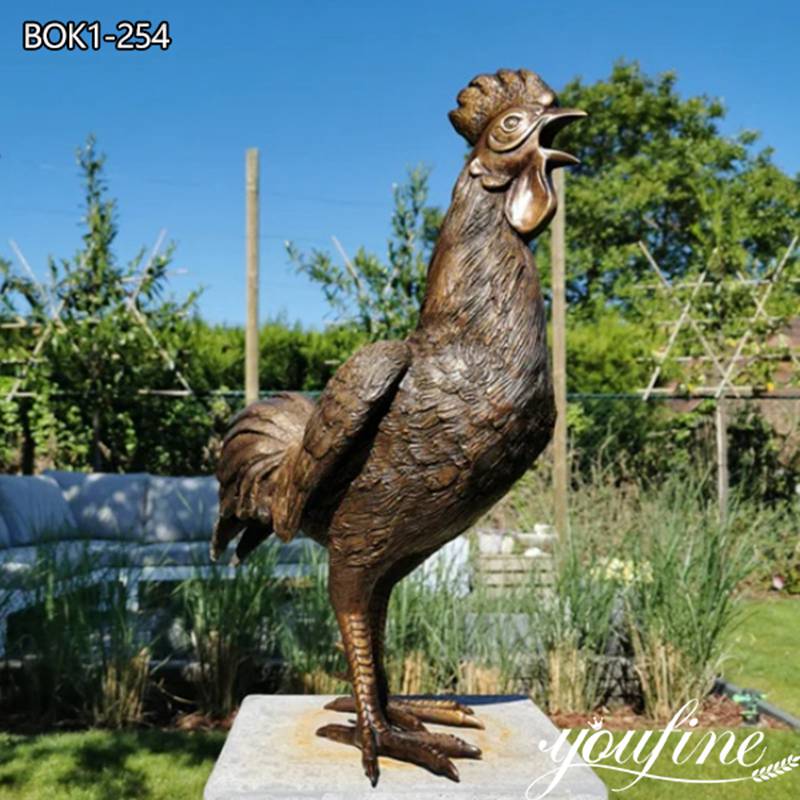 The Symbolism of the Rooster:
Because the rooster croaks loudly. Many countries believe that the rooster symbolizes confidence, luck, and protection. Also, according to Feng Shui, the rooster is a symbol of good luck and prosperity. Feng shui roosters are usually metal or colored giant rooster statues. In addition, roosters have a sturdy crest and a beautifully shaped beak. In addition, the rooster's protruding tail and sharp claws are even more lifelike. Therefore, a rooster sculpture with a fit body has become the best choice for decoration in many places.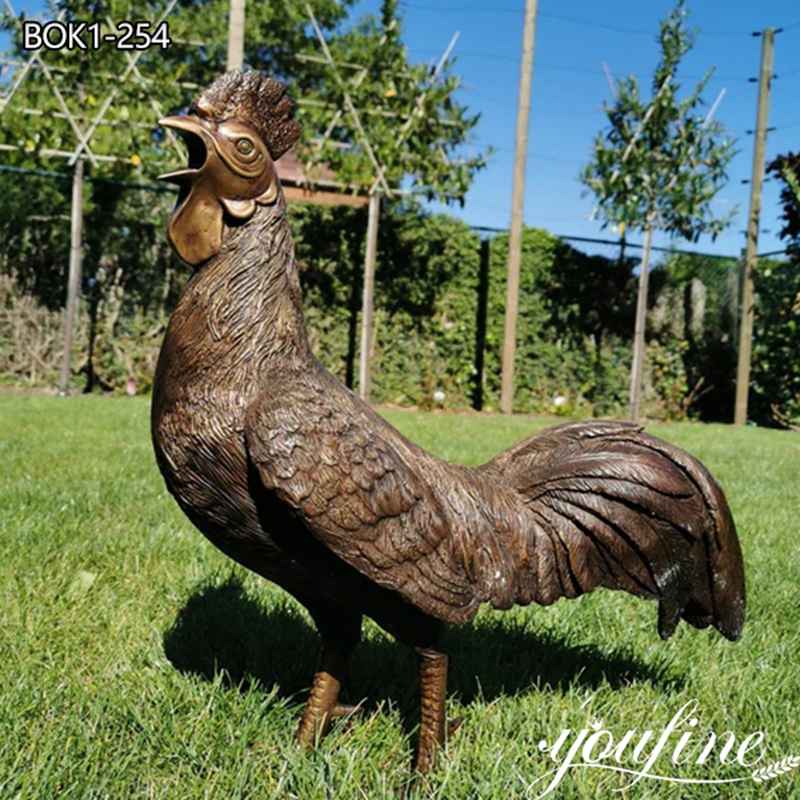 The Process of YouFine Making this Bronze Statue:
First, make a clay model of a bronze Rooster sculpture. The clay model is the most important basis for bronze sculpture. Each bronze sculpture requires a 1:1 model to complete. In this regard, you can rest assured that we have professional model masters to provide the best models.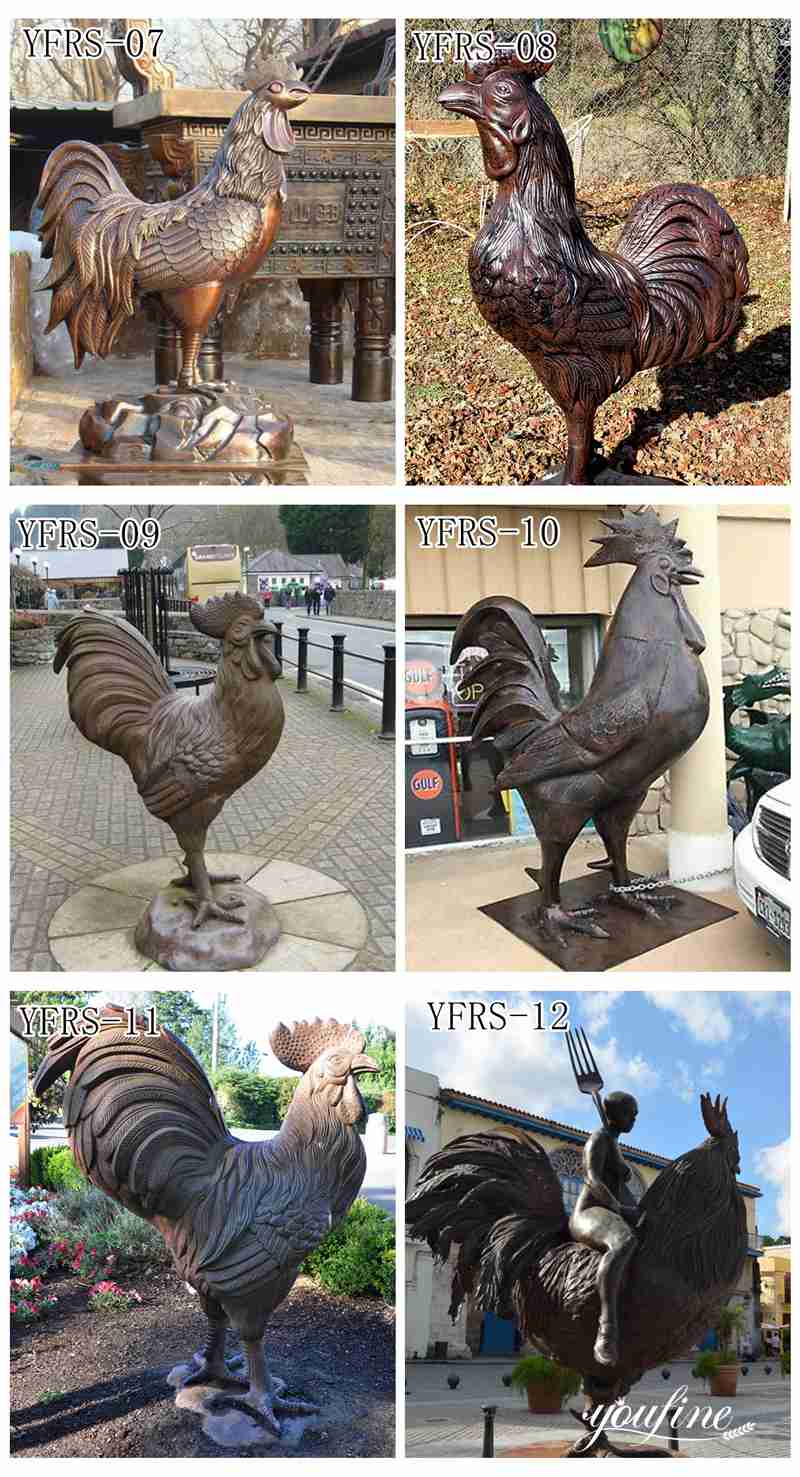 Secondly, we need to shape the wax shell, and then repair the wax shape according to the original drawing to prevent the mold from losing some model details during the processing. It is then fired into the wax and poured into bronze. YouFine's sculptures use the lost wax method, a traditional lost wax process. The wax mold is placed in a heat-resistant mold, the paraffin in the shell is fired at a high temperature, and then the bronze water is poured into the quartz sand shell to cool and form. Finally, welding and polishing.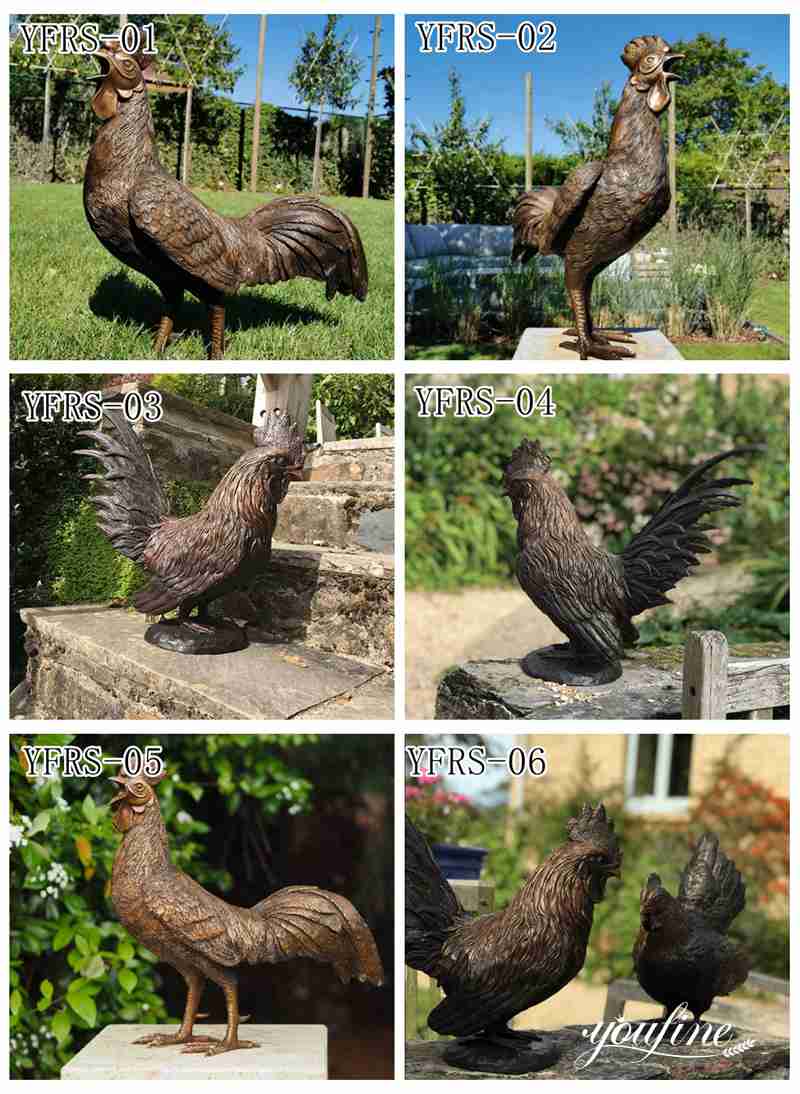 When coloring, we will choose chemical coloring. Chemically colored colors are natural and do not fade. So the color of this bronze Rooster sculpture will become more and more natural and charming. If you are interested in this sculpture, please feel free to contact us for more information.
---
About us
YouFine foundry includes custom bronze children's portraits, custom made full size figure portraits, custom bronze US Military statues and bronze Veterans monuments, custom bronze dog statues and life-size dog portraits, heroic size custom bronze monuments and custom life-size bronze portrait memorial statues. Some of these statues may be limited edition releases but most are commissioned custom made bronze sculptures created by YouFine for governments, business, military, families, and non profits.What ever the subject matter, YouFine can create a custom bronze statue or monument that will touch the hearts of those who see it. She has a knack for making life-size bronze portrait statues that actually look like the individual.
Looking for bronze sculpture ?
Tell us what you need by filling in the form