---
Sculpture Introduction:
This is a highly realistic bronze whale sculpture with fine detail and vivid features. Every perfect detail is capturing people's hearts, so an animal sculpture like this could easily be the highlight of an outdoor venue. Whether it is decorated on outdoor lawns or squares, or on the seaside and lakeside. It's all beautiful scenery. You could choose the right size according to your venue, and we would perfectly restore every detail you want.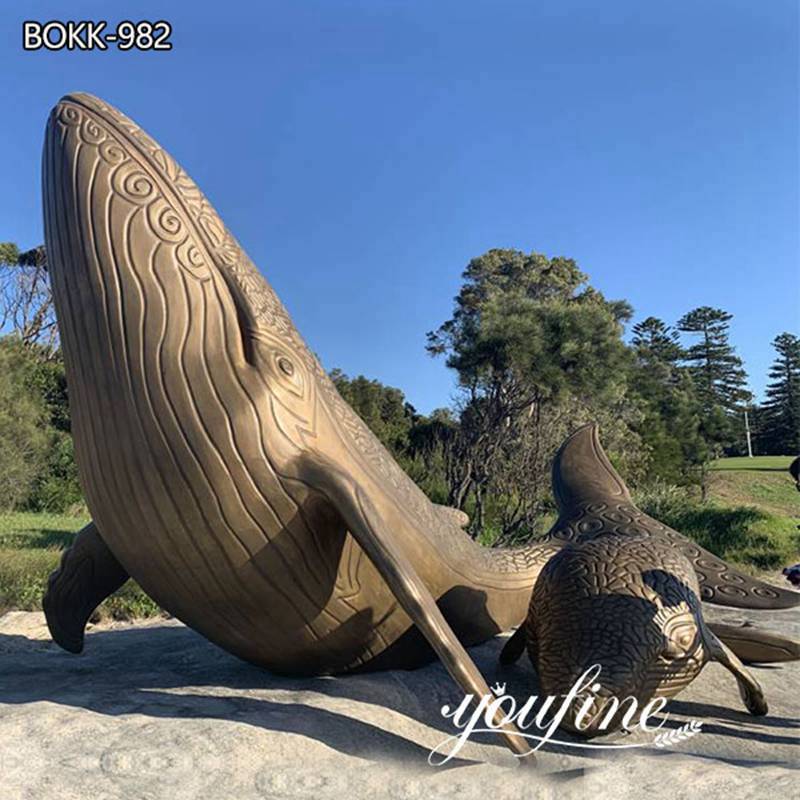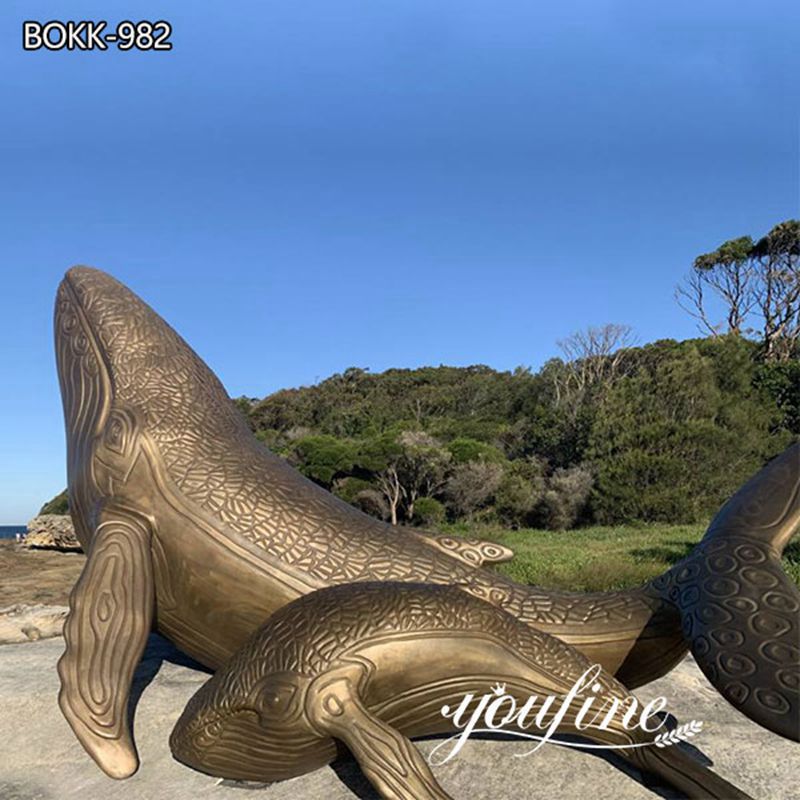 How Did YouFine Produce this Bronze Whale Sculpture for You?
First of all, we would confirm this bronze whale sculpture design with you, such as size and design details. Next, a 1:1 clay model would be made. The clay model is the basis for the production of bronze sculptures and could determine the details of the sculpture. The third step is overmolding the wax shell. Generally, we use silicone to flip fine details. This ensures the greatest possible detail restoration. The fourth step is to fix the wax. The waxing step is also important. To prevent some details from being lost during casting. That's why our artists retouch the wax-up multiple times to make sure the details are still there.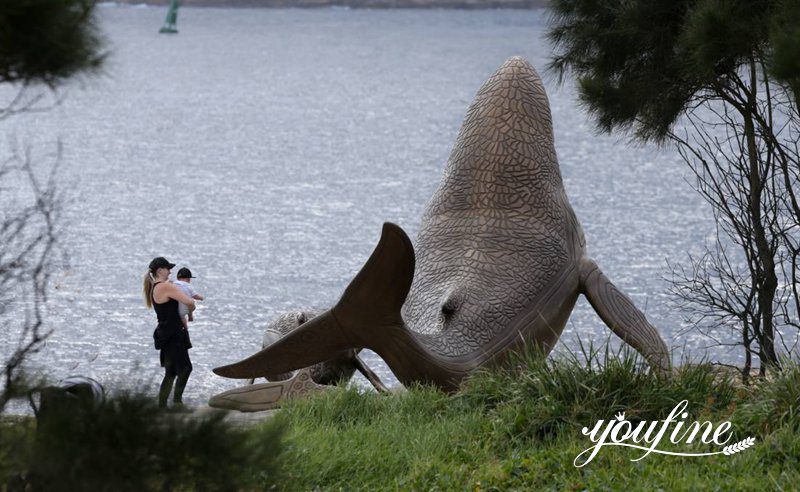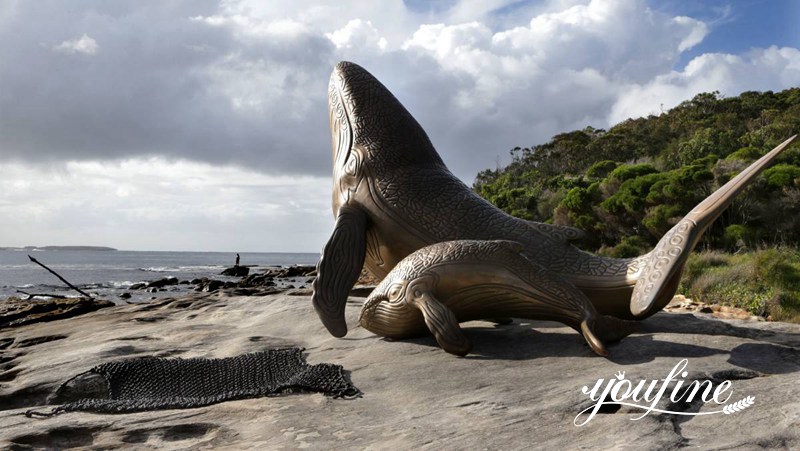 In the fifth step, pour wax to make a wax mold: After the mold is turned over, pour the melted paraffin into the prepared plaster mold or silicone mold, and disassemble the mold after the paraffin cools. This completes the wax model. The next steps are bronze pouring – welding, sanding, polishing – coloring, and packaging. Our coloring method is chemical coloring, so we could ensure that not only would the color not fade, but it would become more and more attractive. And we choose to use bronze for sculpture, the content of copper is relatively high. So you don't have to worry about the quality of the statue.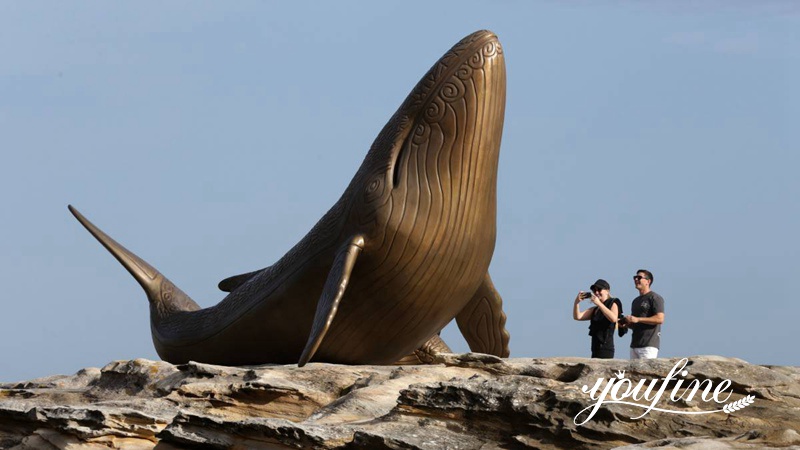 Choose YouFine, Choose the Quality:
This bronze whale sculpture from our YouFine art factory is very popular in the international market. Because we have the best quality and service. Every sculpture needs respect. We would also respect every customer and respect every detail of the sculpture. So we have many repeat customers.
If you are interested in our bronze whale sculpture, please feel free to contact me. Our factory has always given customers the greatest support. YouFine would never let you down!
---
About us
YouFine foundry includes custom bronze children's portraits, custom made full size figure portraits, custom bronze US Military statues and bronze Veterans monuments, custom bronze dog statues and life-size dog portraits, heroic size custom bronze monuments and custom life-size bronze portrait memorial statues. Some of these statues may be limited edition releases but most are commissioned custom made bronze sculptures created by YouFine for governments, business, military, families, and non profits.What ever the subject matter, YouFine can create a custom bronze statue or monument that will touch the hearts of those who see it. She has a knack for making life-size bronze portrait statues that actually look like the individual.
Looking for bronze sculpture ?
Tell us what you need by filling in the form