---
Companionship is the most enduring testament to love. Who doesn't yearn for someone who truly understands their heart and is willing to journey through life's ups and downs together? This life-size bronze sculpture of a loving couple captures the essence of happiness and togetherness. Crafted using ancient Chinese bronze-forging techniques, this masterpiece is a cherished tradition that continues to endure, much like the sincere and unbreakable bond between a husband and wife.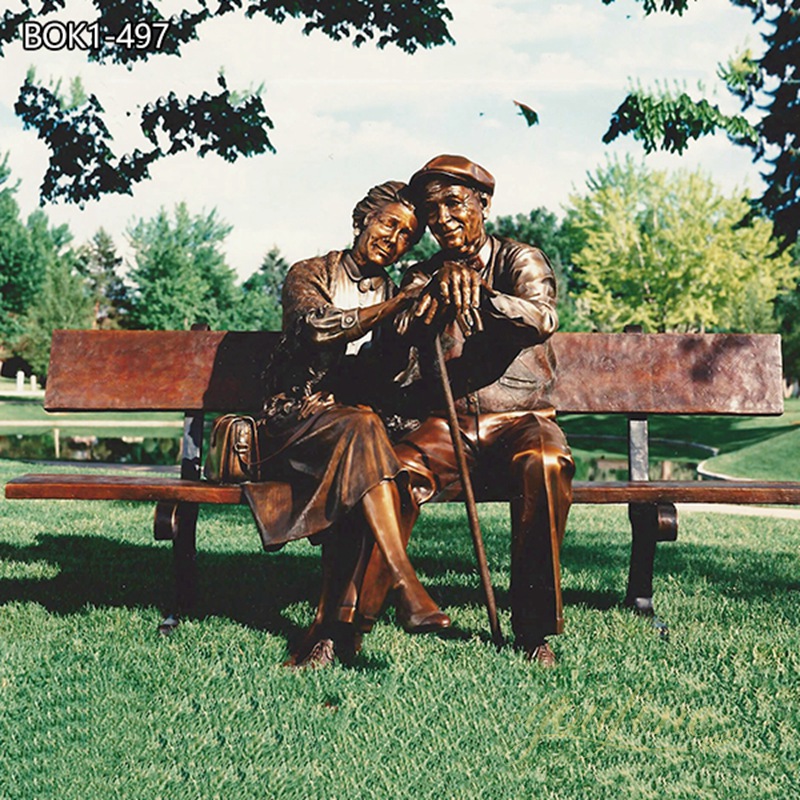 The sculpture's most striking feature is the radiant expressions on the couple's faces. The lady is brimming with contentment, her joyful smile reflecting the depth of her happiness as she holds her beloved husband's arm. The gentleman, with a subtle upward curve at the corner of his mouth, emanates a sense of tranquility and grace, as if this precious moment is poised to last forever. With their heads gently touching and hands interlocked, this sculpture encapsulates the essence of their happiest moment, a reminder that this happiness can persist for a lifetime. Gazing upon this work of art, one can't help but feel their own future brighten.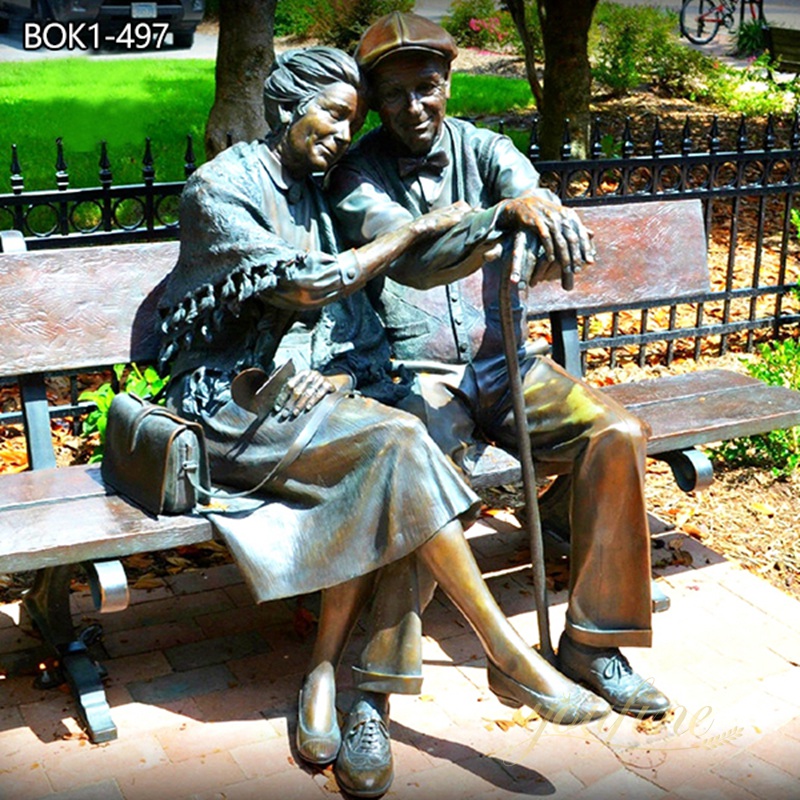 Versatile Placement:
This exquisite sculpture can be placed anywhere outdoors, transforming its surroundings with an air of enduring love and happiness. Whether you choose to display it in a park or a public square, it serves as a reminder to all that such enduring love exists and can accompany us throughout our lives. Placing this sculpture in your own home offers a daily source of happiness and inspiration, with the bronze material adding a touch of texture to your living space, enhancing your overall sense of joy.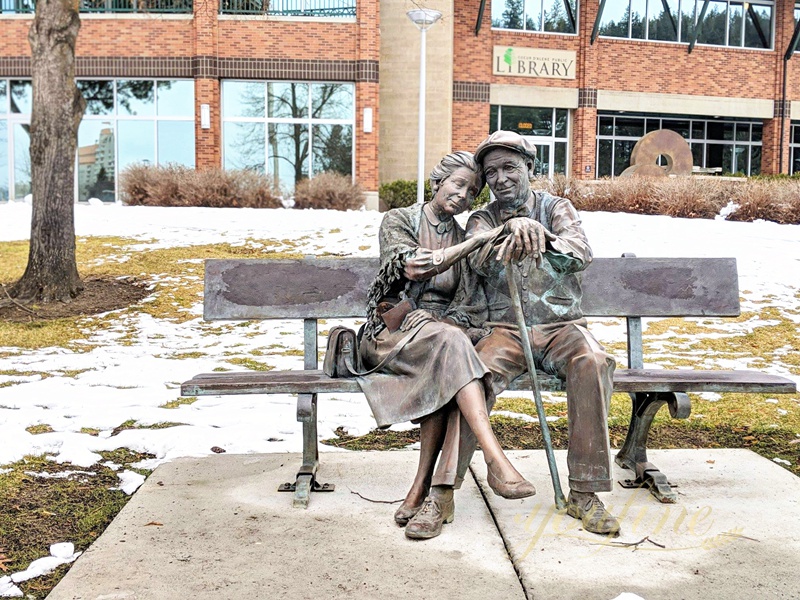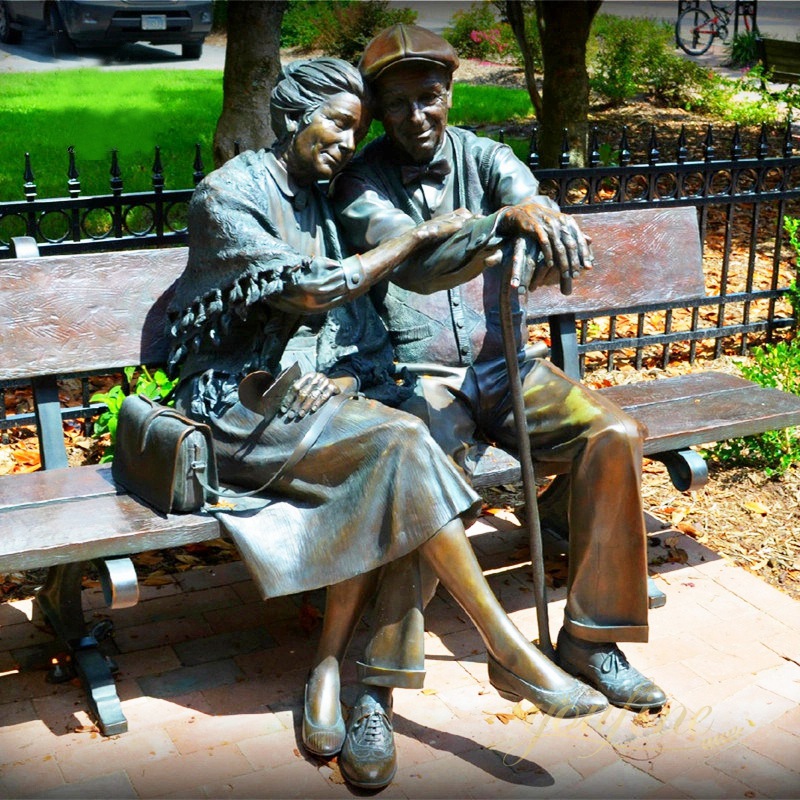 YouFine would Do for You:
We have an experienced team skilled at creating unique, bespoke bronze statues based on your vision.
Customization allows you to memorialize specific people or convey unique concepts through bronze sculpture.
Our sculptors are adept at capturing personalities, expressions, poses, and clothing details in the bronze medium.
We've created many custom bronze statues of influential people for public spaces and private collections.
Work with us to transform your ideas into durable, heirloom-quality bronze sculptures made to last generations.
Our team is dedicated to bringing custom visions to life through a collaborative process focused on details.
We handle everything from conception to installation, delivering stunning, one-of-a-kind bronze statues.
With customization, every aspect from poses to facial features can reflect your vision.
Let our experience in creating bespoke bronze sculptures make your unique ideas a tangible, lasting reality.
We're excited at the opportunity to collaborate with you on a custom bronze statue that embodies your vision and leaves a lasting legacy.
In summary, our expertise in bespoke bronze sculptures makes us uniquely suited to create your custom memorial statue or artwork in bronze. We will partner with you to bring your distinctive vision to life.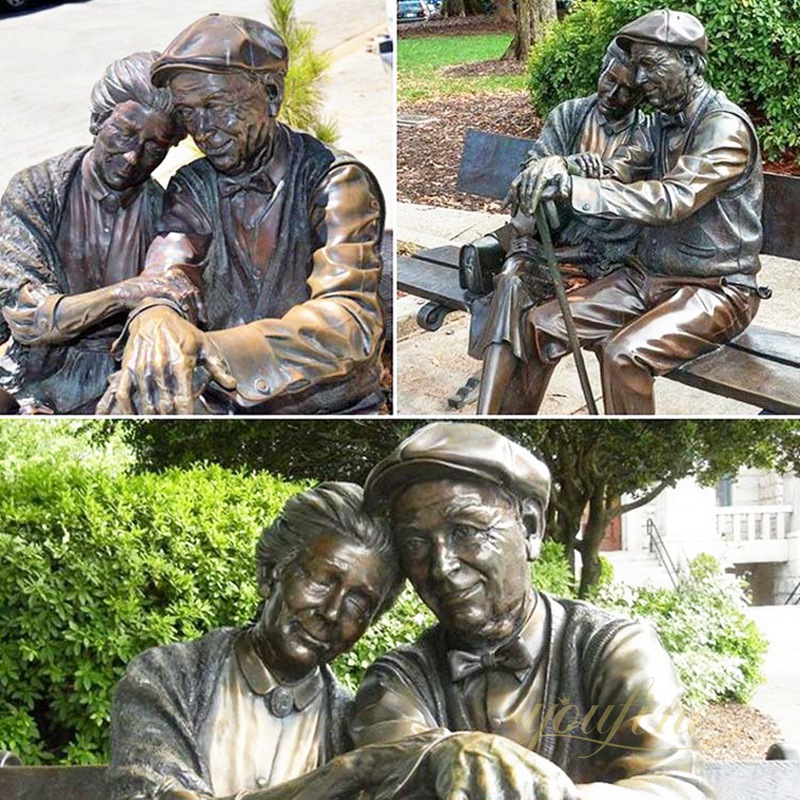 So, don't hesitate any longer. Choose us, and we will provide you with a tangible representation of happiness, allowing you to visualize your own everlasting companionship.
---
About us
YouFine foundry includes custom bronze children's portraits, custom made full size figure portraits, custom bronze US Military statues and bronze Veterans monuments, custom bronze dog statues and life-size dog portraits, heroic size custom bronze monuments and custom life-size bronze portrait memorial statues. Some of these statues may be limited edition releases but most are commissioned custom made bronze sculptures created by YouFine for governments, business, military, families, and non profits.What ever the subject matter, YouFine can create a custom bronze statue or monument that will touch the hearts of those who see it. She has a knack for making life-size bronze portrait statues that actually look like the individual.
Looking for bronze sculpture ?
Tell us what you need by filling in the form