---
Custom Bronze Statue Details:
This loving custom bronze statue of old couples kissing make all of us to desire the good relationship. Vivid and very lifelike. Just like our grandmother  grandfather, she gently kissed his cheek, and he closed his eyes to enjoy the deep love. Wearing a standard T-shirt and leather shoes, with a watch in his left hand, our grandfather looks young and energetic. The old grandmother has short hair and her face is full of happiness. Made by YouFine talented designers, our bronze figures deserve praise.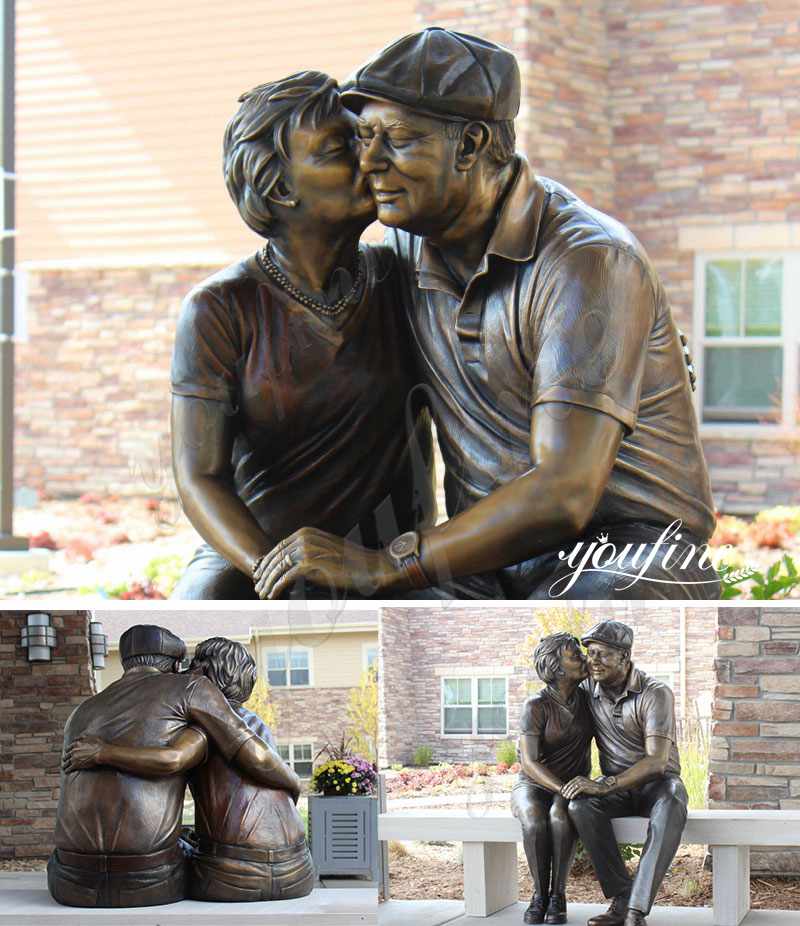 Character Clay Model:
Before making custom sculptures, we will firstly make 1:1 clay molds. Our masters have been specializing in figure statues for decades. They will make clay molds according to muti-angle photos you sent. After completion, we will modify the clay mold according to your comments and requirements until you are satisfied. Then, make a wax shell, and constantly modify it to achieve a similarity. Eventually, bronze casting will begin. The traditional lost wax method is a very time-consuming and laborious method, but it can perfectly retain the shape and subtle details of the characters. Therefore, our customized bronze statues will be very high quality.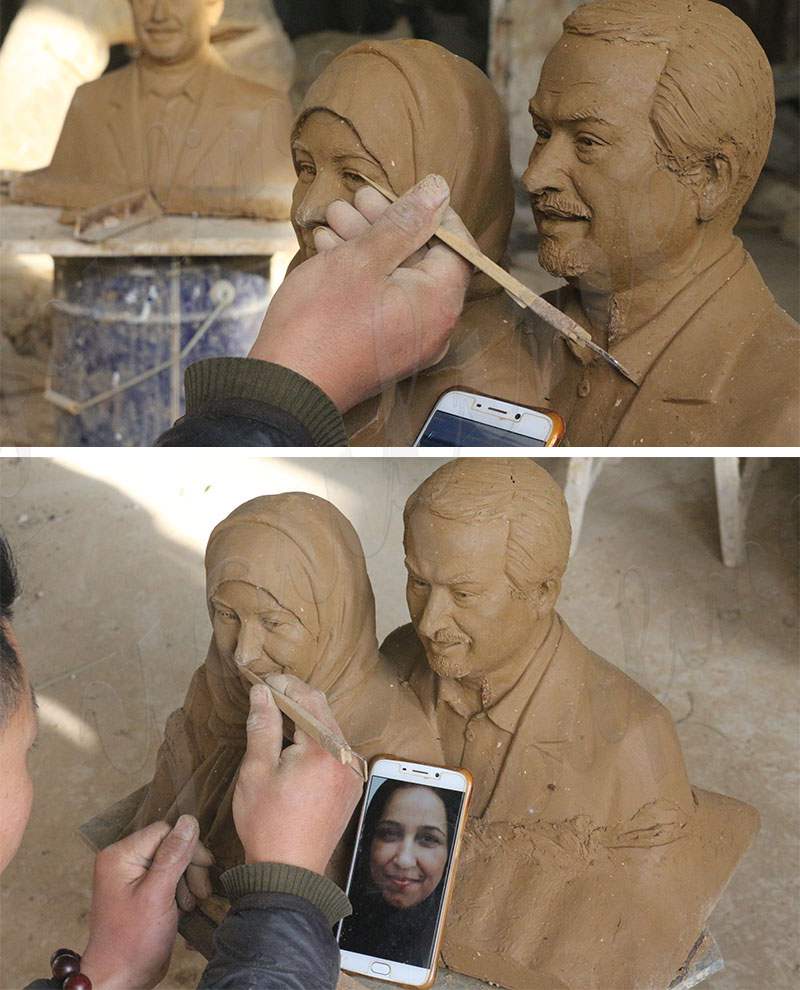 More Bronze Examples:
The bronze sculptures of the real person's whole body are finely made and cast with care. We are capable of making the characters come alive, not only similar in appearance, but more vivid in spirit. The similarity with real people can reach more than 98%, which is in sharp contrast with the quality of other small manufacturers. We also have many custom bronze statue for your reference. The following are all the statues we have made for our customers. They all gave high praise after receiving the sculptures. This is also one of the important reasons why YouFine inherits sculptures from generation to generation.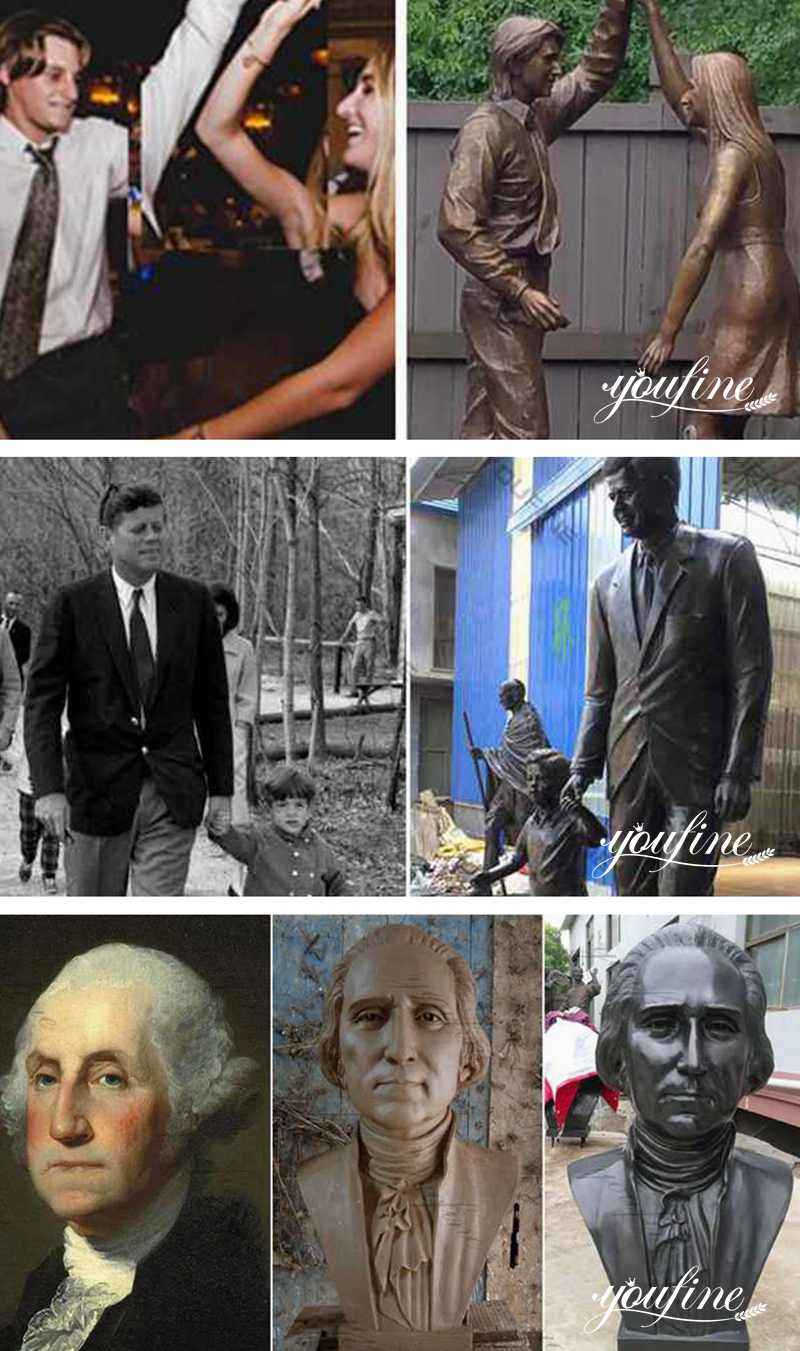 YouFine Foundry:
YouFine has about 40 years of experience in bronze sculpture casting and a 40,000 square meter bronze sculpture production base. Focus on custom-made projects for various historical celebrities, commemorative figures, mythological figures, and Western figures. Using the best quality copper materials, the most advanced casting technology, reliable quality and reasonable price, we will present you with the best quality copper sculptures. Welcome to call to order.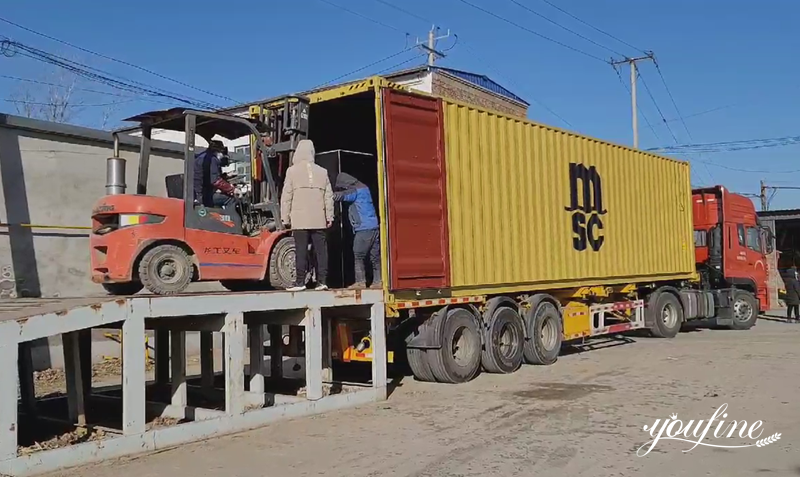 Let's custom statue of yourself!
---
About us
YouFine foundry includes custom bronze children's portraits, custom made full size figure portraits, custom bronze US Military statues and bronze Veterans monuments, custom bronze dog statues and life-size dog portraits, heroic size custom bronze monuments and custom life-size bronze portrait memorial statues. Some of these statues may be limited edition releases but most are commissioned custom made bronze sculptures created by YouFine for governments, business, military, families, and non profits.What ever the subject matter, YouFine can create a custom bronze statue or monument that will touch the hearts of those who see it. She has a knack for making life-size bronze portrait statues that actually look like the individual.
Looking for bronze sculpture ?
Tell us what you need by filling in the form