---
The Details of Military Casting Bronze Kneeling Soldier Statue
This lifesize military casting bronze kneeling soldier statue is a magnificent and solemn presence for gardens or squares. The kneeling soldier in full costume holds the national flag in both hands with a shield at his side. We are also fully aware that the flag means the honor, service, and even sacrifice. He bows his head in deep thought, showing lofty, mighty, and unyielding spirit. That's where we all should pay the tribute. The color of this sculpture is traditional brown, showing the dignity of the figure. Very impressive bronze soldier statue created by You Fine artistic masters.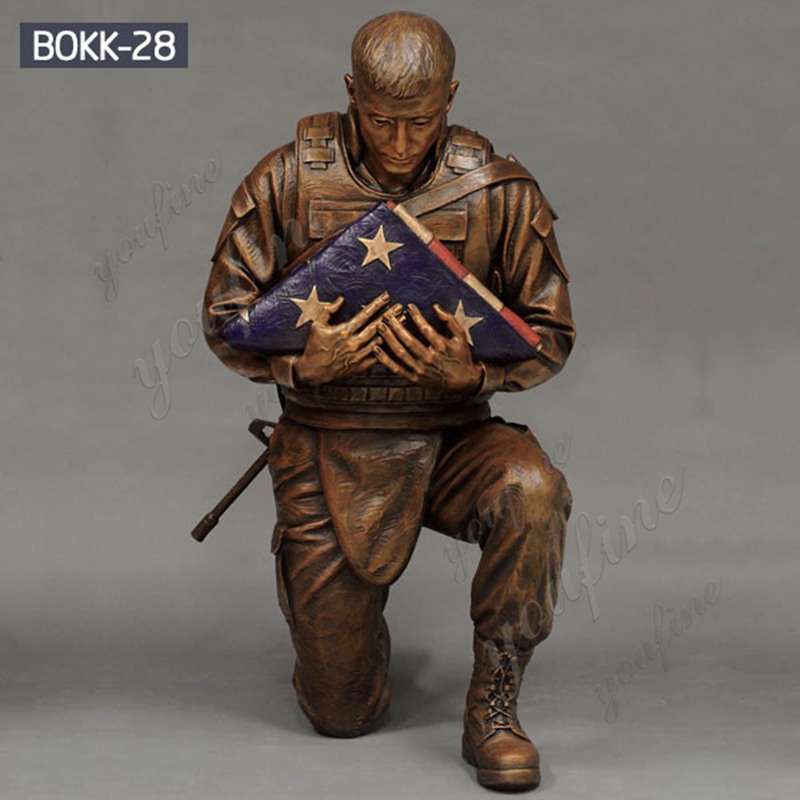 More Designs on Military Figure Statue
Here at You Fine factory, there are thousands of sculptures of army soldiers including this military casting bronze kneeling soldier statue. In addition, we also provide various designs, such as bronze army sculptures, bronze navy sculptures, bronze astronaut sculptures, bronze battlefield cross sculptures, and so on. Everyone has a different unique style but shows a patriotic heart the same.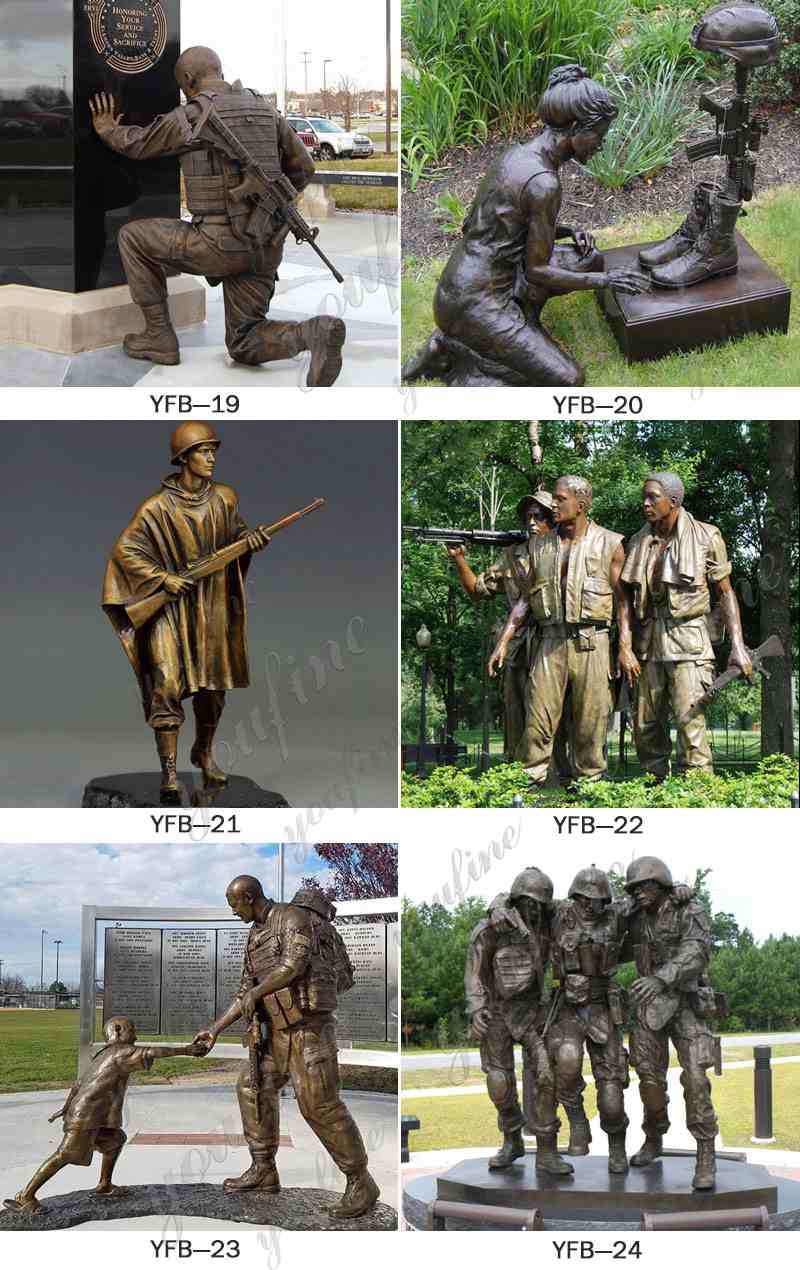 The Significance of the War Memorial Statue
We hope that there is a sculptured monument that will allow you to think about the true cost of war like this military casting bronze kneeling soldier statue. Be prepared for danger in the time of peace and cherish the hard-won happiness of life now. Thus, the significance of the war memorial statue just reminds us that proper and solemn tribute to the soldiers and perpetuate their memories. This sculpture can be used to mourn so many sacrificed heroes. And it could be displayed in every park and public squares.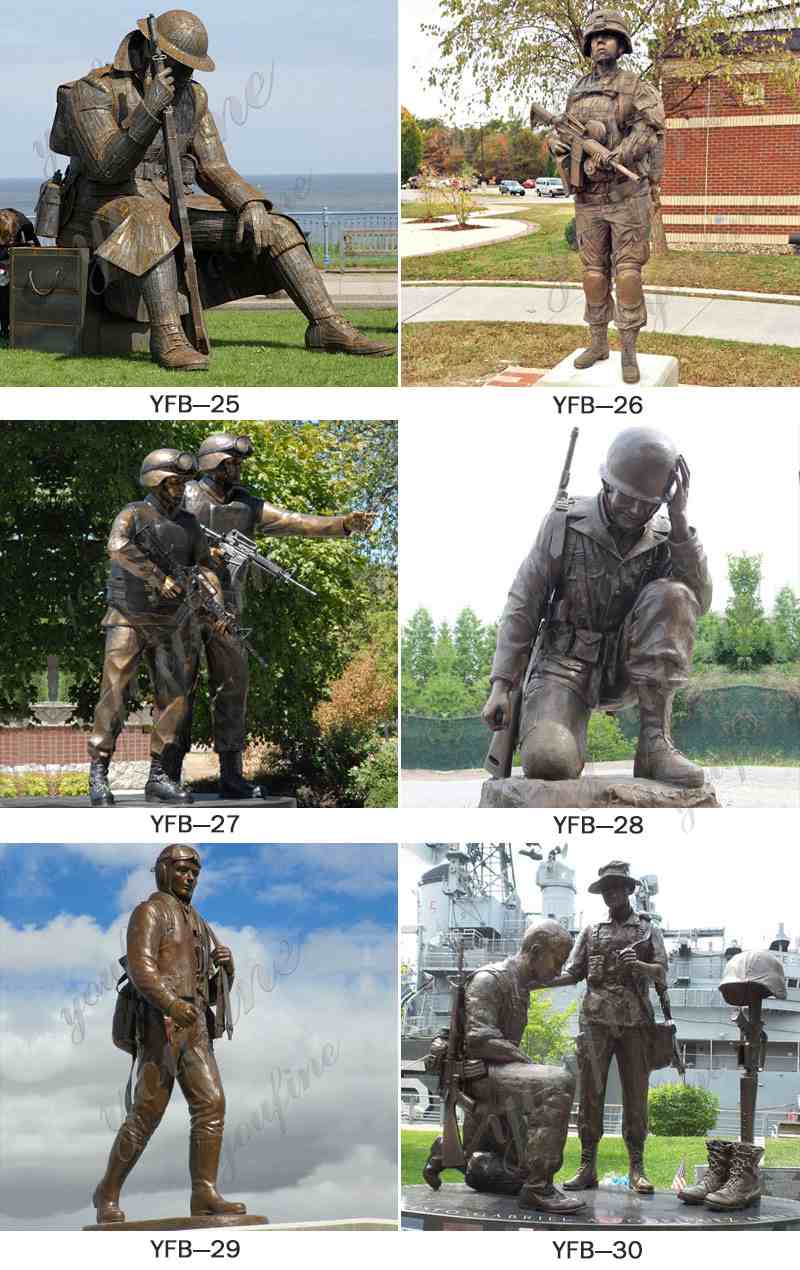 High-Quality Bronze Statue in You Fine
All of our military casting bronze kneeling soldier statues uses the traditional lost wax bronze casting method. This is a classic quality casting bronze method and has been established for hundreds of years. The creation of a lifelike and vivid figure is the devotion and dedication of our craftsmen. Besides, we always use high-quality bronze with minimal maintenance. Therefore, it could be put indoors or outdoors for a long time.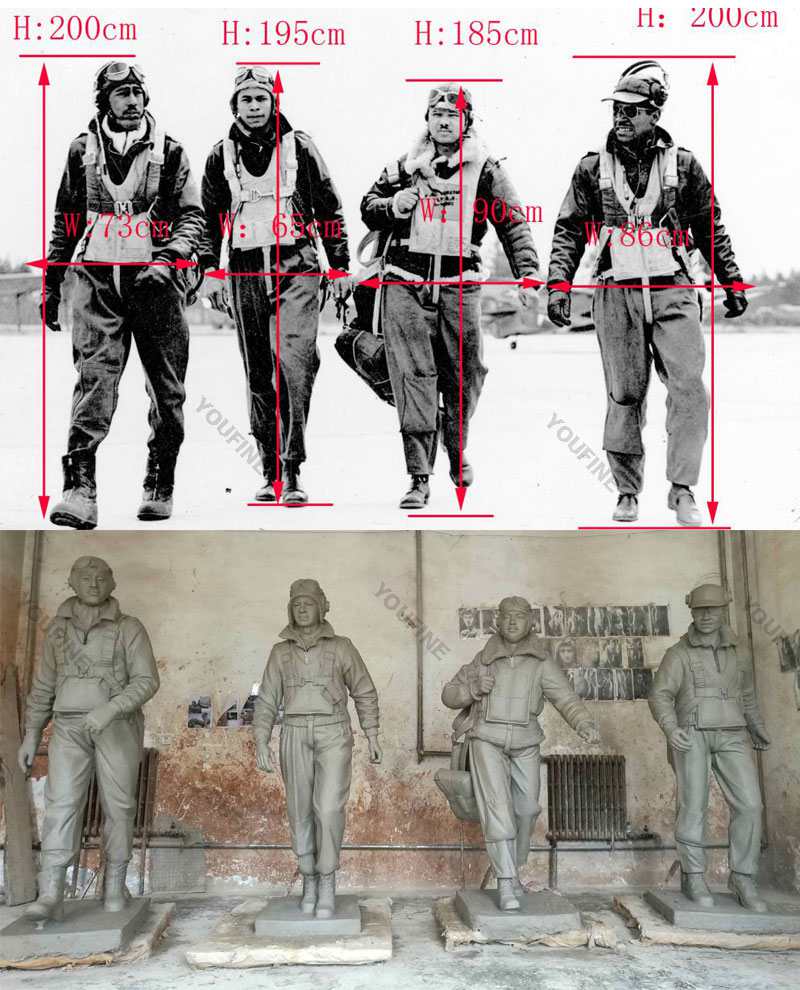 With over 35 years of experience, You Fine has every confidence to create your favorite sculptures!
---
About us
YouFine foundry includes custom bronze children's portraits, custom made full size figure portraits, custom bronze US Military statues and bronze Veterans monuments, custom bronze dog statues and life-size dog portraits, heroic size custom bronze monuments and custom life-size bronze portrait memorial statues. Some of these statues may be limited edition releases but most are commissioned custom made bronze sculptures created by YouFine for governments, business, military, families, and non profits.What ever the subject matter, YouFine can create a custom bronze statue or monument that will touch the hearts of those who see it. She has a knack for making life-size bronze portrait statues that actually look like the individual.
Looking for bronze sculpture ?
Tell us what you need by filling in the form