---
Tuskegee Airmen Statue Introduction:
This Tuskegee Airmen Statue set is customized by our American customers. This customer customized a series of soldier sculptures. This sculpture set is in a museum in the United States. These sculptures are all made by our artists based on a few photos sent by our customer. Every detail on the sculpture is a 1:1 restoration. If you want to customize a statue, you could contact us to discuss it in detail.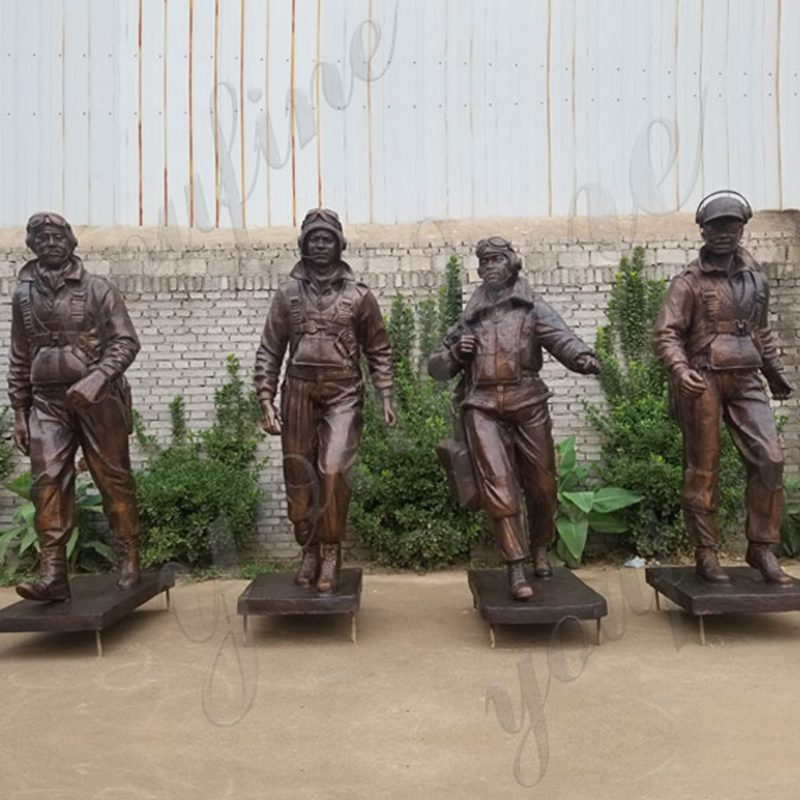 Clay Model Display:
Making a 1:1 clay model is the basis of this Tuskegee Airmen Statue. The clay model could determine the details of this sculpture, laying a good foundation for the subsequent casting. Our top masters of clay sculpture models have exquisite craftsmanship, which is the top level in the industry. Therefore, the sculptures they produced have a high degree of restoration, which makes the customers very satisfied.
Process:
The production process of bronze sculptures is complex and numerous. Every step must be very rigorous, only in this way could a perfect sculpture be produced. This Tuskegee Airmen Statue group also follows the same process. YouFine's process of casting bronze sculptures is the traditional lost wax method. So every detail is very meticulous. After the casting is completed, there are still some welding marks on its surface. So it needs to be finely polished. After the polishing is completed, we would color the sculpture according to the customer's requirements. Chemical coloring, spraying, and painting are all possible.
Transportation:
You don't have to worry about the transportation of the sculpture. Our factory has been established for 40 years and has been exporting for many years. So we have rich experience in overseas transportation. At the same time, we are also familiar with the port situation and the latest policies of various countries and regions. So we could work out the most suitable transportation plan for you. At the same time, we could also provide you with a variety of transportation methods:
Shipping (especially real-life sculptures and large-scale sculptures, which could save a lot of costs).
Air transport (especially suitable for small sculptures or when sculptures are needed very much).
By express DHL, TNT, UPS, FedEx.. (door-to-door delivery, about 3-7 days could arrive).
Please inform us of your requirements! We would find the best delivery method for your reference according to your order and local conditions. If you want more information, you could contact us at any time.
---
About us
YouFine foundry includes custom bronze children's portraits, custom made full size figure portraits, custom bronze US Military statues and bronze Veterans monuments, custom bronze dog statues and life-size dog portraits, heroic size custom bronze monuments and custom life-size bronze portrait memorial statues. Some of these statues may be limited edition releases but most are commissioned custom made bronze sculptures created by YouFine for governments, business, military, families, and non profits.What ever the subject matter, YouFine can create a custom bronze statue or monument that will touch the hearts of those who see it. She has a knack for making life-size bronze portrait statues that actually look like the individual.
Looking for bronze sculpture ?
Tell us what you need by filling in the form